What is the International Allelopathy Society or IAS?
The International Allelopathy Society is an international research society with a keen interest in the field of allelopathy or allelochemical interactions among plants, microbes and other macrofauna in both terrestrial and aquatic ecosystems. The Society has been in existence for over 20 years and has a combined membership of over 1000 participants from over 50 countries. Since 1995, publications in the field of allelopathy have increased exponentially from just over 50 per year to well over 1200 per year, and research in this field as well as that of chemical ecology in general has flourished. The International Allelopathy Society hosts one meeting every three years and rotates these meetings globally, based on interest in hosting the meeting. Our meetings typically attract 200-350 participants, including plant scientists, chemists, microbiologists, entomologists, horticulturalists, agronomists and weed scientists but especially those working in the affiliated field of chemical ecology which is closely aligned with the study of plant/plant or plant/microbial interactions.
What is Allelopathy?
Allelopathy refers to the impact of plants upon neighboring plants and/or their associated microflora and/or macrofauna by the production of allelochemicals; often these allelochemicals typically interfere with plant growth but they may also result in stimulation of growth. The field of allelopathy addresses research on the allelochemicals regulating these interactions, as well as the organisms (including microbes and plants) producing these chemicals, or those directly or indirectly impacted by these associations. Therefore, the field has broadened over the years and now addresses research in both terrestrial (natural and agricultural) and aquatic (marine and riverine) ecosystems. In addition, research involving impacts of environment and genetics upon production of allelochemicals and study of metabolites produced through biosynthesis of plant and microbially- produced secondary products is addressed.
History of the International Allelopathy Society (IAS):
The International Allelopathy Society was formed in mid – 1990s by an active group of researchers working in the field of allelopathy comprising chemists, plant physiologists, weed scientists, plant and microbial ecologists and agronomists/horticulturalists. The society was first led by President Prof. Elroy Rice who wrote the landmark book, Allelopathy and edited its revised text in 1984. Both he and Prof. George Waller along with others were instrumental in developing the first operational executive board and setting the agenda for the first meeting. Prof. Francisco Macias and his research team at the University of Cadiz in Cadiz, Spain hosted the first official meeting of the IAS in 1996 in Cadiz, with support from the University of Cadiz, the Xunta of Andalusia and the city of Cadiz. At this landmark meeting nearly 200 scientists from over 30 countries gathered in the Old Theatre of Cadiz across from the University of Cadiz Medical School and spent 5 days to present their research findings and discuss and debate experimental design in allelopathy research. This meeting set the standard for upcoming meetings and the board discussed the development of an IAS constitution. Prof. Macias then served as incoming president and executive board member and the board inaugurated its awards of excellence for research achievement, student oral and poster presentations and publications in the field of allelopathy and formalized its first constitution and by-laws in 1998-2001.
IAS Presidents
Past presidents
Eloy Rice 1996-1999
Francisco Macias 1999-2002
Azim Mallik 2002-2005
Yoshiharu Fujii 2005-2008
Steve Duke 2008-2011
Leslie Weston 2011-2014
Rensen Zeng 2014-2017
Current president
Manuel Reigosa-Roger 2017- 2020
Future presidents
Catherine Fernandez – 2020-2023
Leslie Weston 2023-2016
Current Executive Board Members
The role of the IAS executive board is to conduct the business of the IAS in a professional manner with respect to the IAS World Congress, a triannual meeting and its program development, presentation of society awards, preparation of biannual newsletters and updated membership mailing lists, maintenance of the IAS treasury in good standing with yearly budget reports, publication of the society's journal and affiliated publications, and provision of support programs for membership growth, education and young scientists.
President – Prof. Manuel (Pachi) Reigosa-Roger, University of Vigo, Spain.
President Elect – Prof. Catherine Fernandez, Mediterranean Institute of Biodiversity and Ecology (IMBE), Aix-Marseille University – France.
Vice President and Meeting Program Chair – Prof. Leslie A. Weston, Graham Centre, Charles Sturt University, Australia.
Secretary – Dr. Genevieve Chiapuso, ChronoEnvironnment, University of Franche Comté, France.
Treasurer – Jeffrey Weidenhamer, Dept. of Chemistry, Geology & Physics, Ashland University, USA
Ex- President – Prof. Rensen Zeng, Fujian Agriculture and Forestry University, China.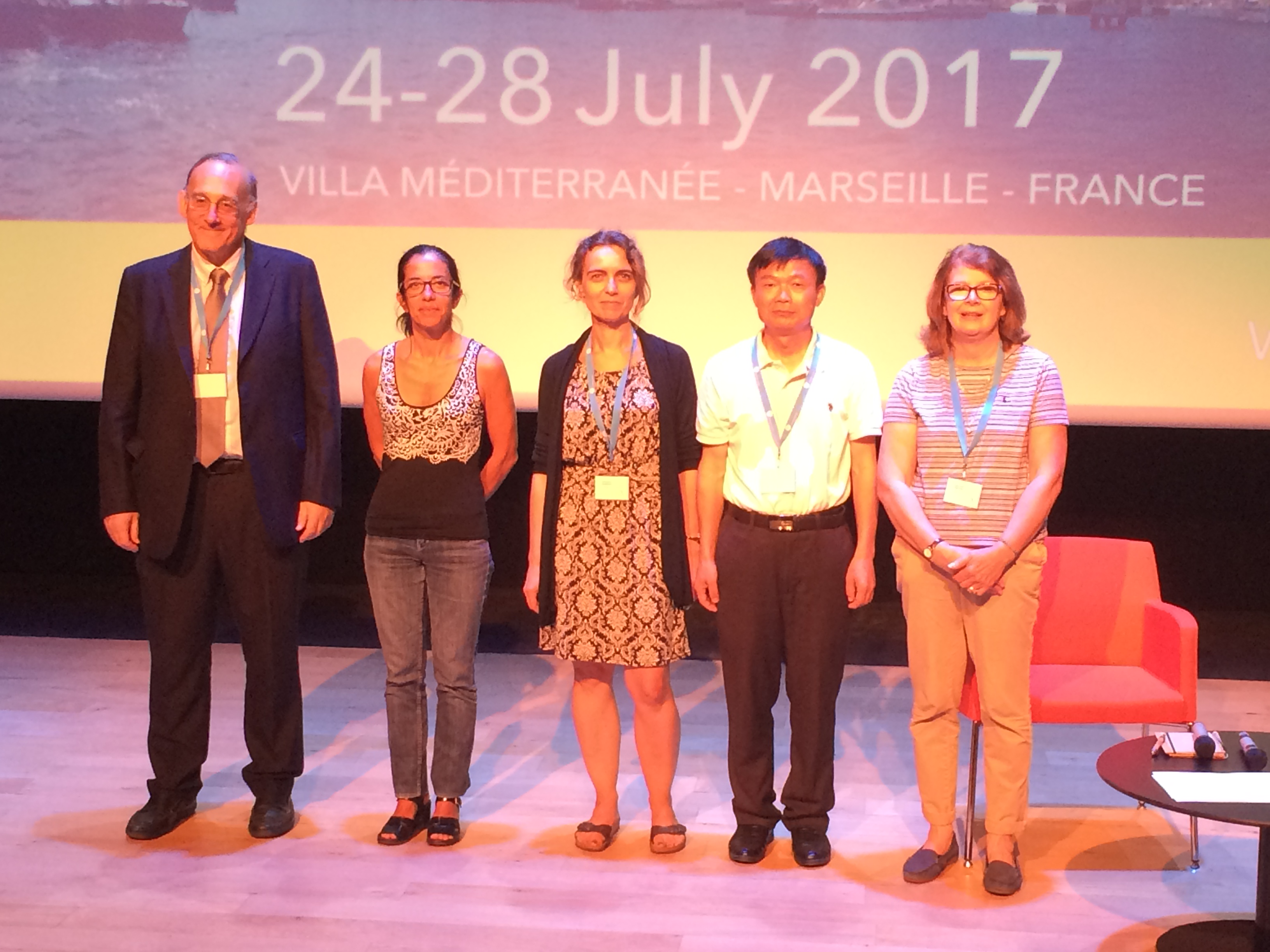 Current Members at Large
The role of the members at large is to provide up to date information regarding membership and contacts to IAS, and also assist in linking the IAS programs, meetings, and publications more closely to regional members.
Asian continent
Nivedita Ghayal, Dept. Botany MES 's Abasaheb Garware College, India.
Lin Wenxiong, Fusjian Agriculture and forestry University, China.
Ibrahim Alsaadawi, Dept. Biology, College of Science, Baghdad Univ., Iraq.
European continent
Maria Rosa Abenavoli, Dept. Biotechnology for the environmental monitoring and agrifood. Mediterranean University of
Reggio Calabria, Italy.
Zita Kriauciuniene, Experimental Station, AleksandrasStulginskis University, Lithuania.
Margot Schulz, IMBIO Institute Molecular Biotechnologuy of Plants, University of Bonn, Germany.
American continent
Paula Novaes, Brasil.
Jeffrey Weidenhamer, Department of Chemistry, Geology & Physics, Ashland University, USA.